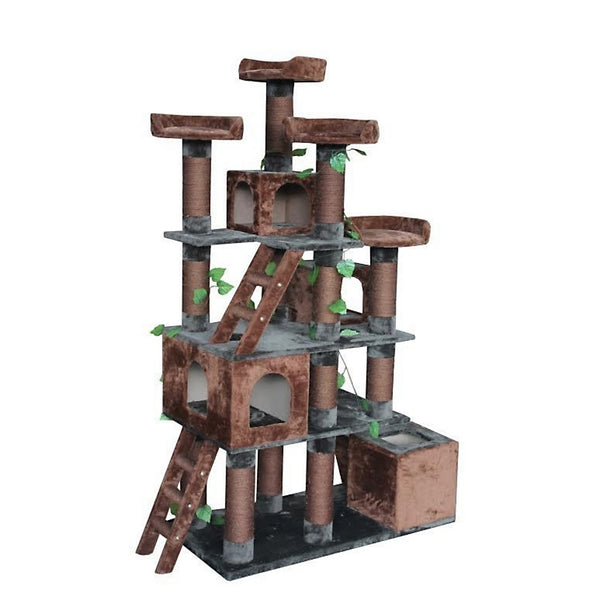 Big Horn Cat Tree
---
The American Big Horn Mountains are an outdoor paradise for the adventurer, naturalist, or sportsman. Its vast beauty serves as a place of refuge for hoomans and for wildlife. The largest model from the Kitty Mansions Deluxe Collection, 'Big Horn' cat tree sits atop a sprawling 48-inches wide by 24-inches deep and 2-inches thick baseboard. It is a burly beast. Two separate ladders at the base lead your wild mountain cat far above sea level. On the second platform is the master suite that has two entryways. Big Horn features a total of four bedrooms, one located on each platform; and a total of four watch towers. It stands at approximately 82-inches tall, almost 7-feet! Its wide body and towering stature pays homage to one of America's national treasures, The Big Horn Mountain Range. 
Features: 5" diameter scratching posts, four bedrooms, four watch towers with plush beds, three kitty ladders, and a heavy duty baseboard.

Scratching Post: Cat owners alike know that cats love scratching things... any thing. And, especially your furniture! Cat Trees made with sisal scratching posts give your cat many surfaces to scratch, sharpen their claws, and to exercise.
Bedroom: Your cat needs nothing more than a place to call home. A bedroom offers a private enclosure where your cat feels safe to snuggle up and take long naps.
Platforms: Platforms on cat furniture give your cat a space to lay down/sit up and relax. Sometimes they even prefer sleeping on the platform rather than in an enclosed bedroom or basket. 
Multi-Levels: Our Cat Trees offer differing levels to mimic trees growing in nature. Multi-level platforms help fulfill your cat's natural instinct to climb. Cats climb to higher spaces in search of safety and comfort.
Dimensions: 47" x 24" x 81"
Weight: 170 pounds
---
---
is back-ordered. We will ship it separately in 10 to 15 days.
---
---
Share this product
---
---